Hey everyone,
Coach @trevor and I hosted the follow-up FTP test today on Zwift after completing the Ramp/MAP test about 5 weeks back. We were discussing the approaches, different outcomes, how to pace and perform the workout, and other points. We though it would be useful to share our performances from today, so here they are. Please feel free to upload your results to get some clarification, help with interpretation, etc!
So my test went off pretty well. We went through a good warm-up and completed a 5 min blowout segment before starting the 20 min test. This is meant to turn through those anaerobic stores so the 20 min test better reflects your sustainable threshold power. So 5 minute effort first: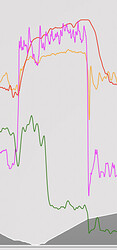 Here you can see the 5 min effort. And if you've been listening to Trevor in the past where he talks about pacing for these, one hallmark of an appropriate 5 min blowout would show a consistent upward trend in HR. This means we're not "settling in" or pacing the effort. If you watched the recorded session, you would hear both us us breathing very heavily during and throughout this effort. Although I did pace somewhat in order to keep some ability to talk during the workout, you should feel like you don't want to talk much at all during this one.
As for the 20 min, here's my screenshot from that one: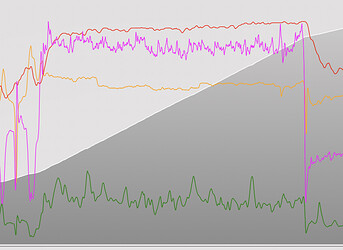 For the 20 min effort, you can see the very stable HR response in red. Power remained very steady throughout, and if you participated in the workout with us or watched it afterward, you'll hear
@trevor
talk about chunking and breaking this up into 5 min segments. For reference, here's how it played out with my TT.
310 watts / 158 beats
304 watts / 165 beats
302 watts / 166 beats
306 watts / 170 beats
So the first 5 minutes HR will be a bit off because of the lag in the response time, but you can see the consistency through the middle 10 minute portion. Finally, by the end there was some creeping up toward max.
Looking back on my MAP/Ramp test from 5 weeks ago, that was a stellar day. Max HR was 181 beats, and based on my peak 1 min power, my threshold was around 300-310 watts, which for this time of the year is very high for me (too high, really). Comparing to today's effort, which was really more of a "typical" day, HR was definitely not near max, I wasn't at the same level of readiness this time around, and these numbers reflect a much more realistic threshold value. So based on the results today, I'm looking not at 300-310 watts, but more like 288-295 watts, and HR threshold 160-162 beats, which is very typically what I would see most often for threshold efforts.
This brought up the point of ensuring you use your "typical" responses to set and update your ranges rather than those banner days where the moons are aligned and you see massive breakthrough performances. Those are usually not the most realistic, and if you chase the training ranges and numbers from your peak performance, you run the risk of over-cooking yourself and failing at the intervals.
Share any of your thoughts or files, data, etc. from your testing and we can get some good discussion going to help you dial in ranges or analyze your sessions!
Coach Ryan