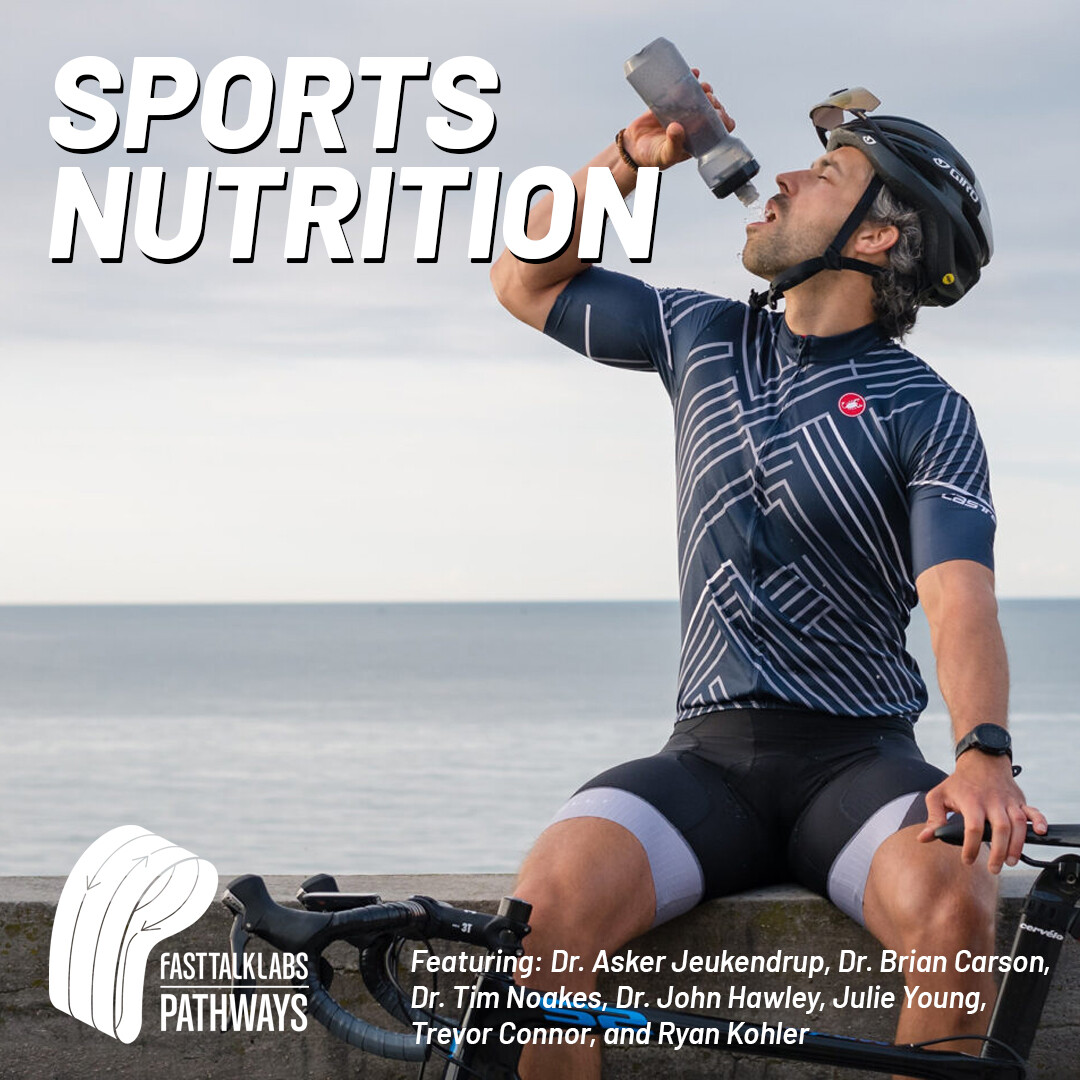 In all of sports, nutrition is one of the most confusing and controversial topics. That's because everyone has an opinion—and it's hard to tell fact from fad. Plus, what works for one person may not work for you.
Now Fast Talk Laboratories is shedding the light of science on sports nutrition.
In our new Sports Nutrition Pathway, we take a deep dive into the science and practice of sports nutrition to help you find what works for you.
This Pathway features experts like Dr. Asker Jeukendrup, Dr. Brian Carson, Dr. Tim Noakes, Dr. John Hawley, and Julie Young, plus our CEO and Coach Trevor Connor, who has extensive post-graduate study in sports nutrition (and who is also CEO of The Paleo Diet) and our Head Coach and Physiologist, Ryan Kohler, who holds a master's degree in sports nutrition and was former the Sports Nutritionist for the University of Colorado Sports Medicine and Performance Center.
These experts create a science-based framework that will show you how to think about sports nutrition in a new way.
Follow this Pathway for:
The Basics of Sports Nutrition
Hydration Basics
How to Monitor Your Nutrition
How to Periodize Your Nutrition Around Your Training Phases
How to Train Your Gut to tolerate your energy needs and fuel sources
How to Use Fasted Training
How Carbohydrate Manipulation Works
How to Create a Race-Day Sports Nutrition Plan
An exploration of ketogenics and high-fat diets
Ketones: Superfuel or Fad?
Supplements: What works and what is wasteful
Weight Management Approaches
Our Sports Nutrition Pathway is the only guide you need to this complex topic. Follow this Pathway, and you'll know the science and be enabled to tell fact from fad in this dynamic area of sports.
About 50% of this Pathway is available free to Listener Members. To access the full Pathway and all Fast Talk Labs content, upgrade to Library Membership.
What Is a Pathway?
Fast Talk Labs Pathways™ are a new way to explore concepts, master skills, and solve training challenges. Pathways are curated collections of expert articles, workshops, workouts, and podcasts that are designed to offer a more robust exploration of a topic than is possible through any individual story. Our coaches provide helpful introductions that link these articles, videos, and other items together so you will always understand the context behind the content.
Think of a Fast Talk Labs Pathway as a MasterClass for endurance sports. Library Members who complete a Pathway will come away with a comprehensive understanding of a topic from a variety of expert perspectives. Finish a Pathway and you'll know the next path forward in your own training.
In the coming months, we will release new Pathways that address key concepts, training techniques, performance analysis methods, and much more. The Sports Nutrition, which is our fifth Pathway, contains all-new content developed specifically for this Pathway.
Watch for our next Pathway release in September.
What topics would you like us to explore in an upcoming Pathway?
Let us know how Fast Talk Labs can help you! Email us at info@fasttalklabs.com or simply reply to this Forum topic.