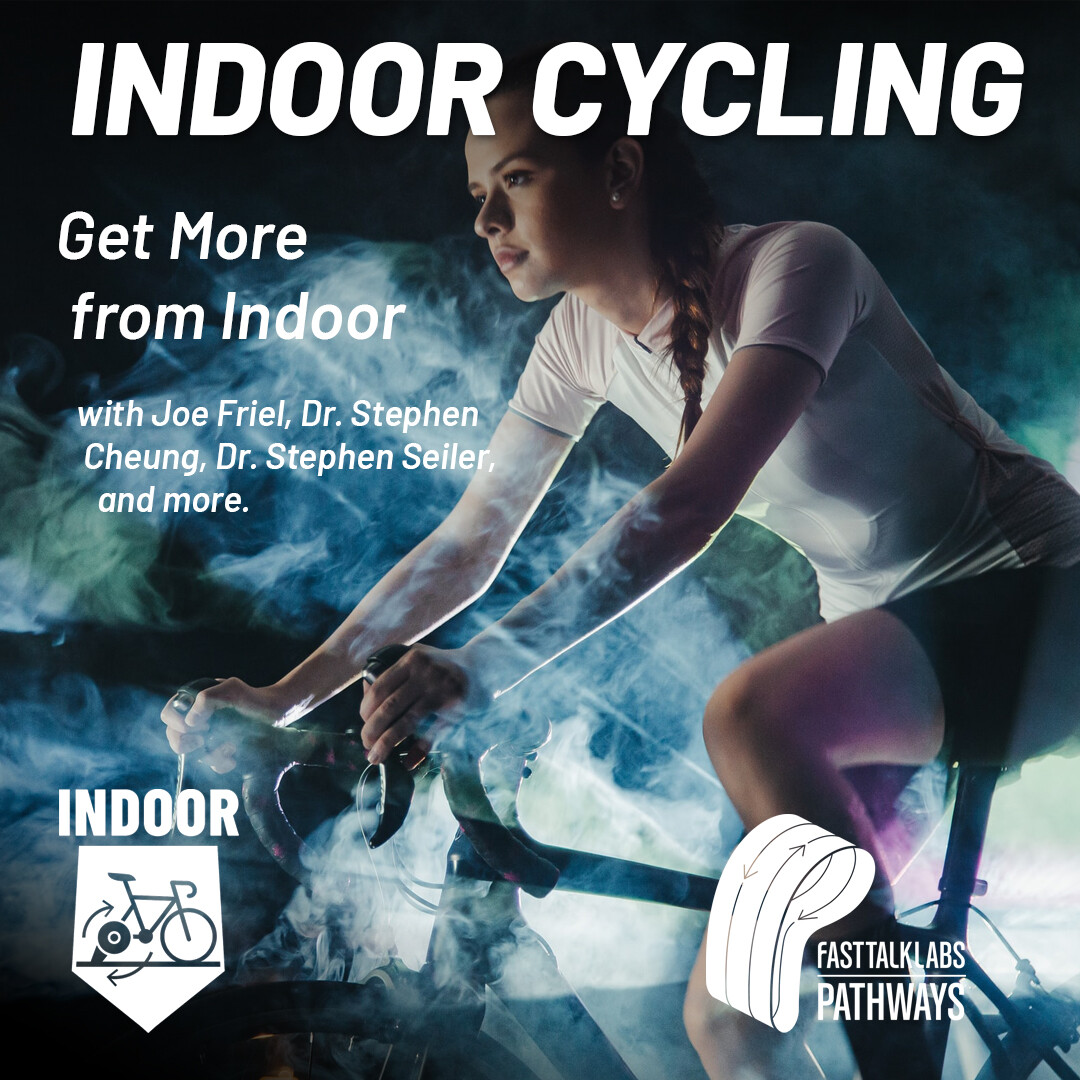 Fast Talk Labs members,
We are pleased release our new Pathway focused on Indoor Cycling!
Riding inside is NOT the same as outdoors.
In this Indoor Cycling Pathway, we tap experts like Joe Friel (coauthor of RIDE INSIDE), Dr. Stephen Cheung, Dr. Stephen Seiler, Dr. Andy Pruitt, Rob Pickels, Trevor Connor, and more.
These experts explore:
The fundamentals of indoor cycling
How indoor and outdoor riding differ
How to modify your bike setup to mimic natural outdoor movement patterns
How to adjust your power meter interpretation
When to use rollers instead of a trainer
Heat management and ventilation
Setting up your indoor cycling workout area
The health impacts of indoor riding
Two-a-day workouts
How to Get the Most from Zwift: How to warm up, how to draft best, why knowing the course matters, how to set up your trainer, power starts, and more
Advanced Zwift Race Tactics
Using Zwift for testing or long slow distance rides
9 great workouts for indoor cycling
Nearly two-thirds of this Pathway is available free to Listener Members. To access the full Pathway and all Fast Talk Labs content, upgrade to Library Membership.
What Is a Pathway?
Fast Talk Labs Pathways™ offer new ways to explore concepts, master skills, and solve training challenges. Pathways are collections of expert sport science articles and videos dive deep into specific endurance topics. We link each story together so members always understand the why and the how.
Think of a Fast Talk Labs Pathway as a MasterClass for endurance sports. Pathways offer a comprehensive understanding of a topic from a variety of expert perspectives. Follow a Pathway and you will know the next path forward in your own training.
Each month, we release new Pathways that address key concepts, training techniques, performance analysis methods, and much more. What topics would you like us to explore in an upcoming Pathway? Let us know how Fast Talk Labs can help you! Email us at info@fasttalklabs.com or simply reply to this Forum topic.