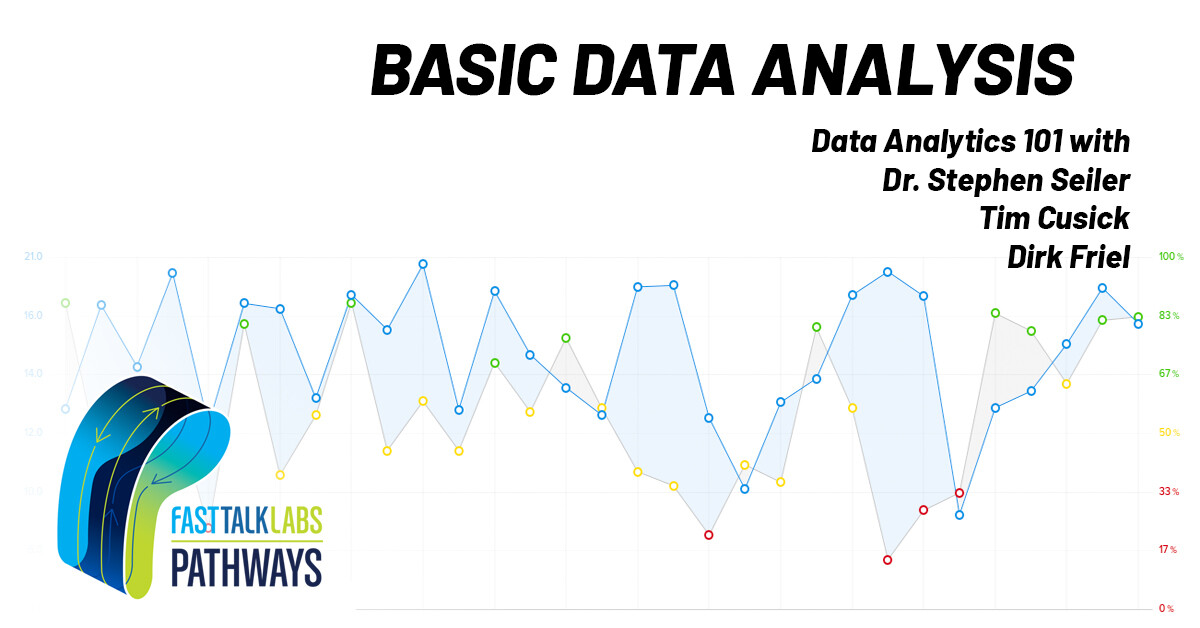 Fast Talk Laboratories Members,
Today, we are pleased to announce the release of our third Pathway! Please take some time out of your Friday, your weekend, or your evenings to explore the Basic Performance Data Analysis Pathway, now fully available for Library Members.
Endurance training can sometimes feel like a numbers game. But which numbers matter most? In our new Pathway on basic data analysis, our experts simplify the abundance of training data gathered by power meters, recovery straps, wearable devices, GPS units, smartwatches, and distill them into your Key Performance Indicators. Follow the Basic Performance Data Analysis Pathway for a new approach that maximizes signal and minimizes noise.
This Pathway features Tim Cusick of TrainingPeaks WKO (@tcusick123), our Head Coach & Physiologist Ryan Kohler (@ryan), Dirk Friel of TrainingPeaks (@dirkfriel), Coach Julie Young (@julie), our CEO and Coach Trevor Connor (@trevor), Cycling in Alignment host and coach Colby Pearce (@colbypearce), and the world-renowned sport scientist Dr. Stephen Seiler (@stephen.seiler).
Over 16 stories, these experts explore these topics: data analytics 101; social training tools like Strava; how to set up your bike computer; how to monitor training; the heart rate/power relationship; how to interpret pedaling cadence; how to analyze common workout formats like LSD, 20-minute FTP tests, 5x5 intervals; how to balance data with intuition; and the most important data tool available: your brain.
About 30% of this Pathway is available free to Listener Members. To access the full Basic Performance Data Analysis Pathway, our new Cycling Interval Training Pathway, hundreds of Fast Talk Labs sports science stories, and to get special member pricing on Solutions & Services, upgrade to Library Membership.
What Is a Pathway?
Fast Talk Labs Pathways™ are a new way to explore concepts, master skills, and solve training challenges. See our new Introduction to Pathways and how to follow them. Pathways are curated collections of expert articles, workshops, workouts, and podcasts that are designed to offer a more robust exploration of a topic than is possible through any individual story. Our coaches provide helpful introductions that link these articles, videos, and other items together so you will always understand the context behind the content.
Think of a Fast Talk Labs Pathway as a MasterClass for endurance sports. Library Members who complete a Pathway will come away with a comprehensive understanding of a topic from a variety of expert perspectives. Finish a Pathway and you'll know the next path forward in your own training.
Watch for our next Pathway release in about a week. After our mid-June Pathway release, we will be settling into one Pathway per month, generally releasing on the first Monday of each month.
What topics would you like us to explore in an upcoming Pathway?
Let us know how Fast Talk Labs can help you! Email us at info@fasttalklabs.com or simply reply to this Forum topic.